[As an Amazon Associate I earn from qualifying purchases. Learn more]
If you love hiking, taking long walks, or hunting, you should invest in good trekking poles. When hunting, they are especially important when you are carrying a load as the poles keep you steady when ascending or descending. When you come across a stream, trekking poles ensure that you maintain your step and that you don't fall in.
Trekking poles can also be used to ward off wild animals that may pose a threat to you when on a hunt. This article will look at some of the best trekking poles for hunting in 2022 that you can purchase when going for your next hunting or hiking expedition. We will also look at some things to consider when choosing a trekking pole.
What is the Trekking Pole?
---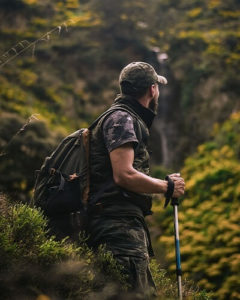 A trekking pole also referred to as a hiking pole, is a pole that has a handle attached, which an individual can use when hunting or hiking. Trekking poles come in pairs as a person needs proper balance when hiking or hunting, although some people prefer to use one pole.
Why Should Hunters Use Trekking Poles?
---
Trekking poles provide stability when one is carrying a heavy backpack, especially when they have packed their meat after a successful hunt. When a hunter uses trekking poles, they experience less muscle fatigue and support faster recovery periods.
When a hunter uses trekking poles, they have two extra contact points that add to their balance, making it easy to carry a heavy backpack. The poles are also a measure of safety as they prevent twisting and falling, especially for hunters who have issues with their legs and feet. They also reduce the impact on knee joints when carrying a backpack.
"Fixed" Vs. "Folding" Vs. "Telescoping" Trekking Poles
---
There are three types of trekking poles available, and you have to choose the one that best suits you.
Fixed trekking poles cannot be adjusted in length and cannot collapse. You do not have the option of folding them and stashing them in your backpack when you do not need them. They can also be quite a struggle on downhill or uphill sections as their length cannot be adjusted to match the terrain.
Folding trekking poles have two or three sections tied together; like they do in tent poles. Some models adjust in length after unfolding while others do not. They are mostly suited for handling rugged conditions.
Telescoping trekking poles adjust more quickly; they are made in two or three sections that pull out of one another whenever you need to extend the pole. With the pole's minimum and maximum length, you can adjust its length to your height or the terrain's slope.
Editor's Top Pick | Top 5  Trekking Poles for Hunting
---
1.

Foxelli Carbon Fiber Trekking Poles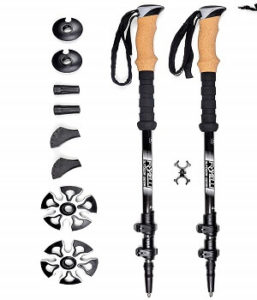 These poles provide stability in various types of terrains, such as mud, snow, or pavements. They are available in small and large baskets to fit any surface. These trekking poles are light in weight, at 7.9 ounces, making them easy to carry around.
The main advantage of the Foxelli Carbon Fiber trekking poles is that they are adjustable to any height you want as low as 2 feet. The foldable trekking poles provide support and lower pressure on ankles and knees during hiking; some poles do not offer this, but the Foxelli poles do.
They are made from 100% ultralight carbon fiber material that is shock absorbent to reduce the impact on joints and absorb noise. Due to its lightweight, it minimizes arm fatigue enabling the user to faster movement with less energy exertion.
Foxelli Trekking Poles are one of the most compact and most versatile in their class as it is a perfect fit for everyone, be they tall or short women, men, and children of all ages. The length is adjustable from 24" to 55".
Pros
Quick-lock technology
Lightweight
All-terrain
Shock absorbent technology
Made of durable carbon fiber
Cons
More substantial than other carbon trekking poles.
2.

Hiker Hunger 100% Carbon Fiber Trekking Pole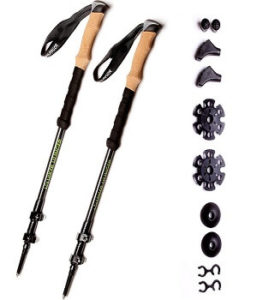 For hunters and hikers who are conscious about weight, the Hiker Hunger poles are well suited for them as they weigh less than a pond. They are made from carbon fiber, which makes them shock absorbent though they cannot hold up scrambling and bushwhacking.
The Hiker Hunger Trekking Poles are designed using a telescoping mechanism that is locked by lever locks on each. This design permits adjustability over a wider range to a minimum length of 21 inches enabling the user to pack and stash it in a backpack. The grip has an ergonomic design built out of wicking cork to provide a perfect grip.
The grip goes further down the pole where it switches to EVA foam with a hoisted design for extra hand traction allowing the user to choke up when climbing. Also, the grips have nylon handles that will enable you to control your wrists during climbs. They also come with an assortment of exchangeable pole baskets that include powder baskets that permit usage in the winter. When using Hiker Hunger poles, you can climb Ice Mountains and any other terrain as they are a perfect fit for all.
Pros
Lightweight at a weight of less than a pound
Exchangeable pole baskets
21" minimum length
Cork grip with EVA foam
Shock absorbent
Cons
Not suited in very rough terrain
3.

BAFX Products Adjustable Aluminum Hiking Poles
These are budget trekking poles as they cost less than $25. They are specifically designed to protect the wrists and knees through built-in shock absorbers situated at the bottom of the poles. To reinforce the shock-absorbing grips, there is a TPR rubber grip and thick rubber pole tips that minimize the impact transferable from the pole to the user's body. The poles are ideal for everyone from novices to experts, kids, teens, and adults from 3'6" to 6'4"; they will use the pole comfortably.
However, there is a weakness in the rubber grips as they are uncomfortable during summer. The rubber on the grips is textured for traction, but the surface accumulates sweat and grime, which results in chafing. Though the rubber grip is better, it does not match up to a grip with EVA foam.
Also, the poles employ a twist-lock mechanism that locks the telescoping sections in place. Though the twist-lock mechanism works perfectly, it lacks the permanence of more costly lever locks.
Pros
Inexpensive thus affordable
Built-in shock absorbers
One year warranty
Comes with two extra rubber tips
Durable
4.

Montem Ultra Strong Trekking, Walking, and Hiking Poles
If you are looking for trekking poles that will endure challenging terrain and last long, these are the right ones for you. They are made from heavy-duty 7075 aluminum that provides resistance to denting and bending. Besides, the manufacturer offers a one-year guarantee and provides lifetime replacement of the trekking poles in case they fail.
They are telescoping poles that utilize two lever locks on each pole to prevent them from producing unnecessary adjustments. This design is advantageous as it makes the poles extraordinarily adjustable from 24" – 53". The 24" inch length can, however, not be packed in a suitcase; they can only be strapped onto a backpack when they are not needed.
The poles have grips made from EVA foam and a secondary foam grip that enables you to choke up. The handgrips are comfortable and soft to the touch. The Montem trekking poles give you a chance to show off your style as they come in nine different colors. They are, however, pretty heavy compared to others in the same class.
Pros
Constructed with heavy-duty aluminum
Life-long replacement guarantee
Comes in nine colors
Wide adjust-ability
One year guarantee
Cons
EVA foam instead of the cork grip
5.

Cascade Mountain Tech Carbon Fiber Adjustable Trekking Poles
Cascade Mountain Tech makes trekking poles from lightweight carbon fiber. They weigh over one pound, which makes them suitable for long-distance backpackers and hikers. Also, the trekking poles cost far much less than other carbon fiber poles in the same class.
The carbon fiber provides support for most needs during hiking, but you have to be careful when testing them on rough terrain or bushwhack. It is made with a telescoping design that makes the poles sturdy as they utilize two lever locks in each pole. Their length can be adjusted from 26" – 54"; the minimum length is difficult to pack in a suitcase but can be strapped on the outside of a backpack.
The cork grips serve different users in diverse ways as they are somehow short. They mix into EVA foam on the original grip at the bottom half. This is not ideal for long-distance users, but others still find the grip to be comfortable.
Pros
Lightweight carbon design
Durable over long distances
Adjustable using a three-piece telescoping design
EVA foam grip
Inexpensive
Cons
The short cork grip section
How to Choose the Best Trekking Poles For Hunting
---
The following are some things you have to put in mind before you purchase trekking poles.
1. Grips
The grip of your trekking poles is essential, as it can be a source of friction on your hands. If the grips are uncomfortable, you can end up with blisters or sore spots on your hands. Grips should be made with foam, cork, or rubber; cork is the best material.
2. Pole Design
The pole design can be foldable, fixed, or telescoping. Your choice of pole design will depend on your individual preference. The foldable or telescoping design is good as it gives you a chance to adjust the length of the pole depending on the terrain you are navigating.
3. Materials
Aluminum and carbon fiber are the most common materials used to make trekking poles. Aluminum poles are more bulky but economical compared to carbon fiber. Although they bend under pressure, they are unlikely to snap. Carbon fiber is lighter but more expensive than aluminum and also has a higher probability of breaking when bent.
4. Durability
Though trekking poles made from carbon fiber are lightweight, comfortable, and more energy-efficient, they are less durable. Aluminum trekking poles last longer though they are more substantial; they can, however, be easily repaired in the field. As they both serve their purpose, choose one that you feel best suits you.
5. Weight
The weight of your trekking poles is an important consideration to make when choosing a trekking pole. The weight you can accommodate is dependent on your physical build. Test out the poles and gauge how they feel on your hands as heavy poles can significantly slow you down or make you tired faster.
6. Straps
Choose trekking poles that have comfortable straps. Most straps are made from nylon webbing, but these produce chafing. Soft chamois or fleece is more convenient, but they produce sweat on your hands in hot weather. However, proper use of straps is essential as using them in the wrong way may cause discomfort to your hands.
7. Shock Absorbers
These are spring-like mechanisms that are small in size and located at the tips of the poles that aid in the reduction of impact when the pole strikes the ground. Most high-end poles have internal shock absorbers, which elevate the pole's weight and price. Some people love the comfort provided by shock absorbers.
Frequently asked questions(FAQ)
---
What is a good trekking pole?
A good trekking pole is one that has a comfortable grip and is easy to lift when hiking.
What is the best trekking pole brand?
Some of the best trekking pole brands are the ones reviewed above.
What size trekking pole should I buy?
The size of your trekking pole should be based on your height.
Can you use just one hiking pole?
You can use one hiking pole, but it is not recommended as it does not provide balance to your body.
Do trekking poles make hiking easier?
Yes, they do. They help the hiker create rhythm during hikes by allowing the hands and feet to move in tandem.
Do I need trekking poles for backpacking?
Yes, you do, they give stability when on technical terrain, minimize the impact on knees and help increase your speed. They prevent you from falling or tripping when carrying your gear.
What is the lightest trekking pole?
There are a variety of light trekking poles with some of them on the product reviews above.
How do you adjust the height of a trekking pole?
The height of the trekking poles should be equal to the top of your arm when the arm is facing down by your side.
Conclusion
---
In summary, trekking poles are a necessity for hunters and hikers. They provide stability and reduce pressure on the knees and the back when hiking or when carrying a heavy load after a hunt. Choose trekking poles that are of the correct weight, durable, and affordable to you. Consider the material that best suits you between carbon fiber and aluminum construction.
Also, put into consideration the straps and the grip of the trekking poles as a pole with a lousy grip can make you uncomfortable when hiking. Also, choose a trekking pole that can be adjusted in length and can be packed or strapped on a backpack when not in use.