[As an Amazon Associate I earn from qualifying purchases. Learn more]
Duck hunting sites are mostly wet and cold. These areas are infested with bugs which you need to protect yourself from. Also, duck hunting usually takes place before sunrise when temperatures are not very favorable. A duck hunting jacket or a waterfowl jacket as it is sometimes referred to has to protect you from all these conditions in addition to keeping you camouflaged. For this purpose, you have to obtain the best waterproof duck hunting jacket that will serve you in all these areas.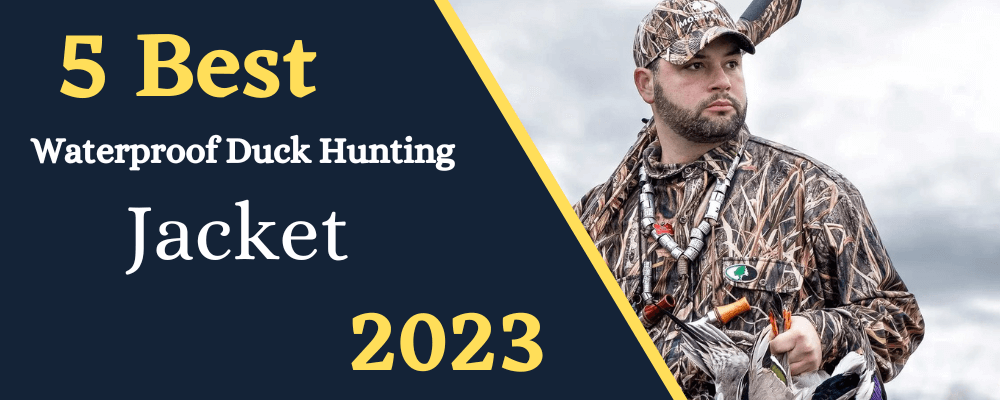 The jacket has to withstand and protect you from rain, mud, wind, and sometimes, freezing temperatures keeping you clean and dry after your expedition.
 

Why do you need a Waterproof Jacket for Hunting?
---
Duck hunting is done in wet and cold sites mostly early in the morning before sunrise. The person doing the hunt should be well adorned to protect their body from these harsh weather conditions. Other times, the person will need to get into swamps to find the ducks and may want to stay dry in the process. The waterproof hunting jacket also protects the hunter against bug bites as the areas are infested with bugs such as mosquitoes.
 Jacket vs. Vest
---
The choice of a jacket over a vest and vice versa depends on individual preference and weather conditions. When wearing a vest, cover your arms with a green, black or green top for camouflage. You also need to protect your arms from bugs and extreme weather conditions.
Surrounding vegetation may even scratch your arms as you navigate the site hence the need to protect them. People with broad shoulders and big underarms prefer vests to jackets as jackets limit their arm movement while others consider the jackets to be too warm.
Types of Waterproof Jackets
---
There are three types of waterproof jackets, namely: paramo, laminates/membranes, and coatings. Your choice of waterproof jacket will depend on your intended use. Duck hunting requires a jacket that provides excellent breathability and comfort. The jacket should also be able to protect you from wetness and wind.
1. Paramo waterproof jacket
Paramo waterproof jackets: are made with the Nikwax Analogy fabric. The jacket's lining has an animal fur feel that pushes moisture outwards, thus protecting you from rain, perspiration, and condensation.
2. Membrane waterproof jackets
Membrane waterproof jackets are with extra layers of fabric beneath the face fabric. The membrane stretches out to provide tiny pores that transport moisture from the inside to the outside of the jacket but prevent water from penetrating inside the jacket.
3. Coated waterproof jackets
Coated waterproof jackets are ideal for daily use, and they offer value for money. The face fabric is coated with polyurethane on the inside to act as a protective wall against outside moisture. The barrier also prevents sweat from moving out of the jacket resulting in dampness in warm weather conditions.
Editor's Top Pick | 5 Best Waterproof Duck Hunting Jackets
---
1.

SITKA Gear Duck Oven Jacket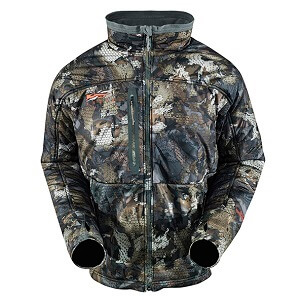 The Duck Oven jacket is a warm jacket for those cold and crisp days. It is not bulky as it is insulated with 200g/m2 and mated with 133g/m2 Primaloft silver. This helps in keeping out the wind, keeping in the warmth, and providing flexibility to the sleeves. The bottom part has a stretchy gradient fabric that accommodates tucking in waders.
The Gear Duck Oven jacket has a high neck collar for trapping heat and thumb loops to keep the hands warm. The pockets have ample storage where the chest pockets are big enough to hold gear and gloves, and they are accessible when the hunter is wearing waders.
It is made using Windstopper Technology that shelters the hunter from strong winds. The membrane prevents perspiration and overheating by allowing the escape of moisture vapor. The fabric is soft and lightweight making the jacket versatile and durable.
The Duck Oven is a good investment that will provide comfort when duck hunting and keep you warm in chilly and freezing weather conditions. The Oven jackets come in waterfowl patterns that are scientifically engineered in consideration of the vision of descending geese and ducks.
Pros
Lots of storage
Super warm
Laminate to stop wind
Gradient fabric to tuck waders
High neck collar
2.

Drake Men's MST Camo Eqwader Plus Full Zip
The jacket is made with HyperShield 2.0 Technology and Refuge HS to ensure wind and water do not penetrate the jacket. It also has zippered slash and chest pockets to enable you to carry a variety of tools. The jacket can also be worn in below-freezing temperatures as it has neoprene cuffs for warmth and comfort.
Drake Technology makes the jackets from a blend of materials to ensure flexibility and comfort, giving you the freedom to move as you wish. The lower body has an ultra-breathable fleece known as Refuge, which is breathable 15 times more than most waterproof material.
The jacket provides comfort when wading, allowing you to breathe and keep cold water outside. With less buildup of sweat, the warmer you will be if the weather turns too cold. It also has all the trimmings that include zippered slash pockets, taped seams, Magnattach pockets, and neoprene cuffs.
Pros
Super breathable dual fabric
Comfy
Insulated for warmth
Not bulky for easy movement
Keeps out wind
Cons
The bottom half is not waterproof and thus is tucked into waders.
No hood
3.

Coleman Mens Waterfowl Fleece Lined Pullover Pullover Sweater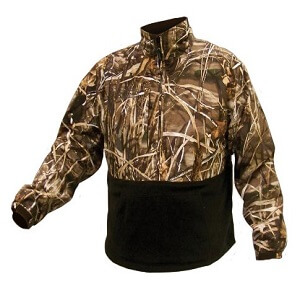 This windproof fleece hunting pullover has a split-top design with a hot half top and a breathable bottom that can be tucked in waders. It has 100% nylon liner that is windproof for protection against the elements with the bottom half having a Brushed Polyester Fleece that is 380 grams.
The pullover has pockets that can zip close in the form of kangaroo and Napoleon to keep your items dry. The waist has a bungee cord to keep out water, and it also has elastic cuffs with Velcro straps.
It is not a thick pullover and does not provide warmth and waterproofing compared to the Drake Eqwader; it is also not as durable. This is not suitable for tall people as it tends to run short, making it hard to fit. This shortcoming is compensated for its affordable cost as it is inexpensive; it is ideal for someone who is on a budget.
Pros
Split design; waterproof and warm top, flexible and breathable bottom.
Cheap and inexpensive
Kangaroo pockets
Windproof lining
Napoleon pockets
Cons
Not as waterproof or durable
Comes in small sizes
4.

SITKA Gear Celsius Jacket
The Gear Celsius jacket is not meant for protection from wind or rain but for warmth and comfort. It is used as an inner or outerwear where it should be combined with another garment that is wind and water-resistant when weather conditions are rough.
It is ideal for wearing during warm weather as it provides needed comfort while you chase your trophy. This is the jacket to go for if you do not require a hard shell, but if you want a hard shell, you can pair the Sitka Gear Celsius jacket with the Sitka Shaker. No combination beats this of all hunting jacket combinations.
It comes in superb camouflage patterns that make you invisible to the ducks when hunting in addition to having diagonal zipped pockets to hold small necessities and provide warmth and comfort. It has a pass-through port safety harness that allows the closer wearing of the jacket to the body. You can also subtract or add layers without the need to remove the harness due to weather changes.
Pros
Warm, silent, and comfy superior material
Superb camo patterns
Zipped hand pockets
Available in various sizes
Efficient insulation
Cons
Few pockets
Not rain or windproof
High price
5.

Wildfowler Outfitter Performance Camo Hunting Insulated Parka
This jacket is completely waterproof with taped seams and double waterproof construction. The wind cannot enter inside as the shell is lined with polar fleece and an elastic drawcord for neck protection adjustable to your needs.
The material used to make the jacket is highly breathable to manage moisture properly by keeping the water outside and comfortable inside. It does not produce noise when in motion, and it is flexible, allowing for easy movement and also providing camouflage to blend with the environment.
It is suitable in all weather conditions as it is designed with a 3-layer system for warmth and keeping wind and rain out. This jacket is burly, big, and warm with a guarantee to keep you dry and cozy. Hunters prefer it due to its ability to keep them warm under all weather conditions despite it being bulky.
Pros
Blends with surroundings
High cut collar
Velcro designed cuffs
3-layer design system for warmth
Highly breathable and flexible
Waterproof
Quiet and flexible tricot shell
Cons
Sometimes cumbersome due to its size
Hard to use with thick gloves because of Velcro pockets.
How to Choose the Best Waterproof Duck Hunting Jacket
---
I. Waterproofing
The most important thing is the waterproofing ability of the jacket. It should insulate you from wet and cold weather as duck hunting can leave you sitting in marshes or wadding for a long. You, therefore, need a jacket that will keep you dry throughout the hunting exercise. It should also be able to remove perspiration as sweating can leave you damp on the inside.
II. Flexibility
Waterproof jackets are thin to allow the wearer to move around. A heavy and bulky jacket adds weight on the shoulders, which might lead to the development of back and shoulder pain. Therefore, before you buy a waterproof jacket, consider its thickness and its convenience during movement.
III. Camouflage
A waterproof duck hunting jacket has to blend in with the environment to make you invisible to your prey. You don't want a situation where the ducks spot you from a mile away. Get a jacket that camouflages you with the surroundings and reeds.
IV. Waders
The waterproof jacket should be able to accommodate waders. Some jackets have split designs with warm and waterproof designs with a thin bottom to enable the tucking of wades into the jacket.
V. Hood
The hood of the jacket should be the right fit and size to prevent the loss of body heat via the head. The hood should be adjustable to cover the head without limiting your view. A stiffened hood provides more protection in bad weather.
VI. Zips
You should look for a jacket that fastens correctly with waterproof zips. The zips should be smooth running as they are a source of ventilation when it gets hot. They also regulate body heat and transport moisture more effectively. The zip should also be a heat conductor as it can transmit cold in chilly weather or heat in hot weather.
VII. Pockets
The jacket pockets should also be waterproof or have storm flaps to keep pocket contents dry. The pockets should also be big enough to accommodate a few items, such as gloves and other necessities.
Frequently asked questions (

FAQs)
---
What is the best duck hunting jacket?
Several duck hunting jackets in the market provide warmth, prevent water from getting into the body, and are also windproof and flexible. The jackets reviewed above are some of the best in the market.
What makes a jacket waterproof?
Waterproof jackets are made without a membrane but are treated with a material that is water repellant that prevents water from seeping through. Their seams are taped or covered to avoid moisture from penetrating through the jacket via the stitches. The jacket is also able to remove perspiration to prevent dampness inside the jacket.
Are waterproof jackets waterproof?
Yes, they are waterproof because they prevent the hunter from getting in contact with water even when inside water. However, the fabric treatment that makes them waterproof wears out after some time and may need to be re-proofed to maintain this feature.
Which is better waterproof or water-resistant?
Waterproof is better than water-resistant as it prevents water from getting to the body while water-resistant only prevents this for some time, especially if you are out in the rain for a long time. Sometimes you will find it in a marshy or swampy area for a long hence the need for a waterproof jacket.
How tight should a waterproof jacket be?
A waterproof jacket is supposed to hug your midsection lightly while the top button is fastened; it should not constrict or feel tight nor should it pull at the button. Also, if you have trouble moving your arms, then your jacket is probably tight.
Who makes Drake jackets?
 Drake Waterfowl Systems make Drake jackets.
What is the warmest hunting jacket?
Drake and Sitka are some of the warmest hunting jackets on the market. Examples that I recommend are SITKA Gear Celsius Jacket, SITKA Gear Duck Oven Jacket, and Drake Men's MST Camo Eqwader Plus Full Zip.
Final Verdict
---
The choice of your duck hunting jacket should first be based on the weather conditions you wish to hunt in. If you are hunting when the temperatures are cold or freezing, you should get a hunting jacket that will protect you from cold. If doing so in marshy areas, you should purchase a jacket that is waterproof and warm at the same time. Do not pick a jacket because of its low price as low-priced hunting jackets miss out on some of the great features of a duck hunting jacket.
One of the highlights is waterproofing which is a necessity in duck hunting. Drake and Sitka are some of the brands that sell quality duck hunting jackets that will serve you well; they are highly recommended for your duck hunting expedition.