[As an Amazon Associate I earn from qualifying purchases. Learn more]
If you are a regular hunter, you probably know that turkeys are some of the animals with the best eyesight. They can spot you from a distance if you are not adequately camouflaged. Hearing a turkey is not a problem; neither is seeing them. The problem is getting them to come close to you to aim your shot at a good shooting range.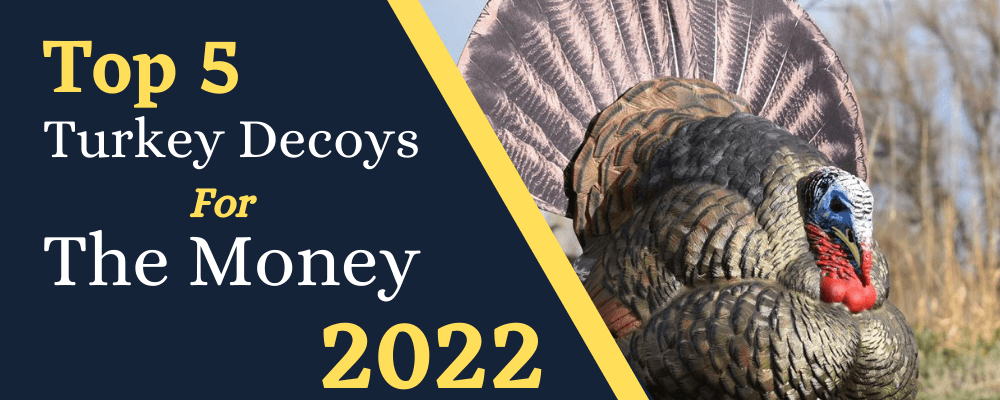 This is the reason why you need to have the best decoy to lure the turkey closer to where you are. The decoy has to be close to the real thing as much as possible, as the birds are also intelligent. This article will look at the best turkey decoy for the money in 2022 and some other factors that you should consider when choosing a turkey decoy.
What Is A Turkey Decoy and Why Do I Need One?
---
A turkey decoy is a device or thing that looks like a hen that is placed in strategic places where a gobbler will see it. Gobblers (male turkeys) are attracted to hens (females); hence, when they spot one, they get closer to them.
Therefore, the hunter needs a decoy to bring their prey closer to their shooting range. The decoy is usually accompanied by turkey calls that mimic those of a hen; hence, the hunter should see a hen after the hunter has made the turkey call.
Benefits of Investing in a Great Turkey Decoy
---
An excellent turkey decoy will bring the gobbler to where you want it to be. Some gobblers get to the decoy and even start fighting it as they see it as real. This is the time that the hunter should aim and shoot the turkey as he is distracted by the decoy.
Types of Turkey Decoys
---
Turkey decoys are in three varieties; the tom, the jake, and the hen. A hunter should have at least one tom decoy. A tom decoy will attract another tom, especially if the targeted prey is aggressive. Tom decoys are also useful when you know that there is a dominant and mature tom among the flock.
Jake turkey is a young male that is ready to breed, but the dominant and more mature toms stand in their way. Since the dominant toms consider jakes to be less intimidating, having a jake turkey decoy will bring toms to the jake.
A hen turkey decoy will attract jakes and toms, especially during the breeding season in spring. When hunting in spring, these are the best decoys to use for your turkey hunt. Hen turkey decoys are available in various postures such as feeding, standing, or in a submissive breeding posture, which drives toms wild.
Are Cheap Turkey Decoys Worth a Try?
---
The higher the price of a turkey decoy, the better the quality of the material used to make it. More top-priced decoys are made with materials that make them look as real as possible. This is what delivers the turkey closer to you.
Cheap turkey decoys, on the other hand, are made with cheap materials that fail to bring out something close to the real thing. Even when they do manage to attract turkey, they quickly lose interest as they realize that it is a decoy.
How to Set Up Turkey Decoys
---
If you want your decoy to work the way you want, you have to set it up in an effective manner. The following are two ways that illustrate how you can have the best turkey decoy setup.
Fighting
To attract the attention of an aggressive gobbler, place a jake and tom turkey decoy on each other's faces as if they want to fight. You can then scatter a hen decoy around the other two decoys. Next, use wing thrashes, and fighting purrs to attract the attention of a gobbler who is ready for battle.
Feeding
Another effective decoy is where the hunter tries to get prey using their need for food. Strategically place a hen turkey decoy with its head down in an agricultural field, food plot, or forest opening facing your blind diagonally. Then, put jake behind the hen but facing you instead. This setup will bring in a tom that would be coming to stop jake from wooing the hen.
Editor's Top Pick | Top 5 Turkey Decoy for the Money
---
1.

Avian-X Breeder Hen Turkey Decoy
A mating hen is an instant attraction to a tom. The Avian-X Breeder hen decoy will bring in toms as soon as it has been set up. The decoy has a relaxed body that has an exposed rump and fallen wing pairs that have precise feather detail. It is painted in a paint that does not flake to make it attractive to toms. It has a collapsible and portable Dura-Rubber body.
They have unmatched realism that includes realistic eyes, and they are made from long-lasting materials that resist wear and tear. The folding stake attached enables the decoy to move minimally in a practical manner, and it endures windy conditions and hence does not spin. They are 15% smaller than actual turkeys, which are meant to attract gobblers without scaring them away.
Pair it up with jake to attract aggressive and dominant gobblers. Setting up is as easy as opening the valve and blowing air into it, closing the valve and the decoy is good to go.
Pros
Non-flake paint with realistic feather detail.
Relaxed and lowered pose
Can pair with jake for better results.
Practical anatomical features
Easily portable and collapsible body.
2.

Primos 69064 Gobstopper Jake & Hen Decoy Combo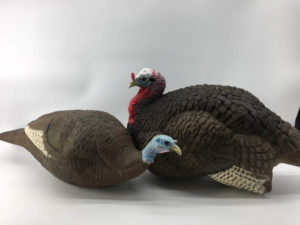 In the past, most of the turkey hunting decoys available in the market have been too bulky to carry to the hunting ground. Storing them when the hunting season is over has been a challenge. Besides, they do not possess the realistic features needed to replicate a real turkey. It is for this reason that Primos came up with the Gobstopper Jake & Hen Decoy Combo to meet this requirement.
The decoys come in a pair of two, a hen and jake; this is the best combination to bring a gobbler to where you want it. The decoys are easy to carry as they are lightweight and easily collapsible.
The jake is in a submissive posture that pulls in gobblers while the hen can be set up in three different positions. They are made from high-tech processes and apply high-quality imagery to make the decoy look as real as possible. You set them up by simply filling them with air, which is easy to deflate after use. Also, they have rugged metal stakes that hold them firmly on the ground. They are also some of the cheapest decoys on the market.
Pros
Lightweight and compact
Cheap
Easy to setup
A rugged metal stake for a firm hold.
Small volume bladder that is easy to fill.
3.

Flextone Thunder Creeper Strutter Decoy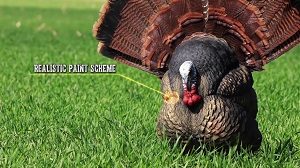 This is a decoy that imitates a young male tom, which is meant to bring in the big tom. Place it in a strategic place, and you will have mature gobblers aggressively approaching the young male. The decoy has features such as a short beard, detailed molding, a realistic paint scheme, and a folding tail fan, all this coupled with the appearance of a young tom strutting his stuff.
It has a compressed profile that makes it easy to store and transport. However, it still displays its realistic back and front side. It has a lightweight carbon stake that makes it easy to set up in a free rotating position or fixed in one place. The design can accommodate an actual turkey fan (bought separately) to make it more real.
Pros
Durable and lightweight
Has a folding tail fan and shirt beard.
Easy to carry, handle and store.
Can be set up either fixed or rotating.
Can accommodate a real turkey fan.
4.

Dakota Decoy Company Dual-purpose Hen Turkey Decoy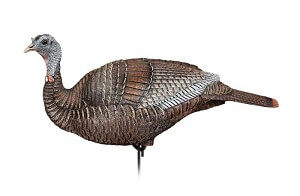 This Dual-purpose hen turkey decoy is an addition to the Dakota turkey decoy series. The decoy is developed by Dave Constantine, who is a Master Carver and has been a turkey hunter for decades.
The decoy has a perfect standing body posture that makes it look non-alert. When you set it on the ground, it seems like a pre-bred hen that is a must-have for anxious toms. It is constructed with a blend of EVA plastic, which is a high-quality material that withstands any weather condition.
Also, the EVA plastic retains paint better than other decoys on the market. The stake system is made of pure metal, and it comes with a decoy bag.
Pros
Paint retention
Body made of durable EVA plastic
Has internal storage
Has a metal stake system
Ultimate detail and realism
5.

MONTANA DECOY: Miss Purr-FECT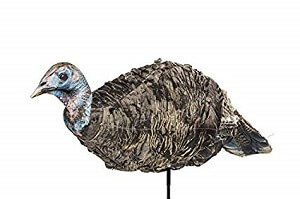 This is a decoy that can be set up in different poses as it employs Perfect Pose Technology that enables this. You can set it up in a feeding position, take on a looker pose, or a breeding posture. Therefore, you can take this decoy in all your turkey hunting expeditions as it delivers beyond your expectations.
It has perfect realism that brings gobblers to a close without being suspicious of it. It has a full 3D design that has feather cuts on top of the paint to make it more real. You can adjust the neck and also use the two holes at the bottom for the stakes.
Pros
Can be set up in three different postures.
Has fabric feathers that are quickly swept by wind creating realism.
Portable
Easy to set up and deflate when done
Cheap thus affordable
Strong leg pole with an elastic strap for holding the decoy place.
Cons
The stake is a bit short.
How to Choose the Best Turkey Decoy for the Money
---
As there are many turkey decoys in the market, it may be difficult for you to choose the best one. The following are some of the factors you should consider when selecting a turkey decoy.
I. Durability
A good turkey decoy should be constructed with durable material. This is because it will have to endure abuses in the fields. It has to survive gobbler fights, hitting while in your truck, and resist getting dents.
II. Price
A turkey decoy that has the best features does not come cheap. Some of the cheapest decoys miss some of the features, but it is always not the case for all cheap decoys. Therefore, you have to inspect the decoy before you buy it carefully.
III. How many do you need?
Have in mind the number of decoys you think are necessary. If you have more than one decoy, it will improve the chances of you getting that gobbler that you so much yearn for.
IV. Level of Realism
Realism is determined by the quality of materials used to make the decoy. Look out for the type of paint used on the decoy, feathers, and lifelike motions that create a realistic appearance. Therefore, be very careful when choosing your turkey decoy.
V. Portability
A large decoy will give you problems when transporting it to the hunting ground. It may also pose a challenge when setting up. Invest in a lightweight decoy that's collapsible to a compact size if it comes with a carry bag, the better for you.
VI. Multi-pose Decoy
Some decoys can only be set up in one position. Having a decoy that has different pose positions is better as it will save you the cost of buying different decoys with different poses. This kind of decoy is more productive than one with a single pose.
VII. Brand
The company of the manufacturer is essential as there are brands that are not so popular. Some of the popular turkey decoy brands include Primos, Zink Avian-X, and Mojo. You can consult Google or fellow hunters for this.
Frequently asked questions(FAQ)
---
Do decoys scare turkeys?
Turkey decoys that do not appear real enough may scare away turkeys.
How many turkey decoys should I use?
Two turkey decoys, a hen and jake, produce better results than a single one. If using one decoy, go for the one that can be set up in three different poses.
Do you use turkey decoys in the fall?
You can use decoys in the fall, but experienced turkey hunters discourage it.
What do I need for turkey hunting?
Some of the things you need for turkey hunting include turkey hunting gear, hunting gloves and masks, decoys, turkey calls, a hunting knife, and a hunting license.
What gun is best for turkey hunting?
Shotguns are ideal for turkey hunting.
Conclusion
---
In conclusion, turkey decoys are essential to a hunter as they enable the hunter to capture a gobbler easily and quickly. Look out for decoys that look like real turkeys as there are sub-standard decoys out there that do not attract gobblers to them.
Since most hunters go for gobblers, it is good to look for a hen decoy that gobblers go for, especially when set up in a breeding pose. It also increases its effectiveness when a jake decoy accompanies it as gobblers do not like to see jakes near a hen. Remember that the higher the cost of the decoy, the better its quality.